Heide Felton passed away on Friday April 6, 2018 after an extended illness.
Heide is remembered by those who knew her for her kindness, compassionate heart, sharp mind, and boundless positive energy. Even in her last days, she remained positive and hopeful. "Wonderful" was the word she used most often as she looked on her garden or greeted friends and family who came to visit.
For more than two decades, Heide has given her time, energy, creativity, and love to our community. She wanted all young people to have the opportunity for happy and successful lives and she focused on those who had fewer resources. She worked tirelessly to ensure that schools integrate social and emotional well-being in addition to academics into their curriculum.
Heide loved gardening and the outdoors and she created beauty in these spaces. She combined her passion for children, the outdoors, and social-emotional learning in much of her work. She co-created the organic garden classroom at IslandWood, started Garden Based Education to encourage kinesthetic learning, helped design the child-friendly Kesher Garden at the Jewish Community Center, and was instrumental in launching the Rainier Beach Learning Garden in South Seattle. She also encouraged innovative change at the Bloedel Reserve on Bainbridge Island.
Heide knew the importance of compassion and mindfulness and was a model servant leader. She understood the power of mentoring to transform lives. As a mentor, she listened to, encouraged, and supported many young people as well as adults. She was a founder of Contagious Compassion which paired developing social entrepreneurs with mentors. Heide also served as board chairperson for Jolkona which runs mentor-driven education programs for individuals working to create sustainable solutions to challenging societal issues.
Heide joined with other leading philanthropists to create an Endowed Professorship at the University of Washington's School of Social Work, leading to the development of Communities that Care (CTC). CTC uses proven community-based processes to reduce youth violence, substance abuse, and delinquency. Heide successfully encouraged CTC to create space for communities to solve their own problems and for youth to learn to make mindful choices.
Heide's work with the Compassion Action Network, the organizing committee for the 2008 Seeds of Compassion, and the Mary M. Gates Guild at Seattle's Children's Hospital encouraged countless others to become philanthropists.
In addition to gardening and her vast charity work, Heide loved to entertain her friends with exquisite food and a welcoming smile. She enjoyed music and dancing with family and friends.
Heide's father first introduced her to gardening when she struggled as a child to learn in traditional classrooms. He gave her a patch in their garden where she planted seeds and watched them grow.
Always courageous and independent, Heide left home at age 17 to study in Germany, not knowing a word of German. Several years later she went to study at the University of Sussex in the UK, not knowing any English. She earned a BS in Computer Science. After working for several software firms in the UK and running her own consulting firm, she moved to the United States where she worked at Paccar in Renton. She took continued education classes at Bastyr University.
Heide met her husband Matthew in England in 1986. They moved to the United States in 1987. Matthew proposed on top of the Space Needle in 1988 and they married in 1989. Heide embodied servant-leadership at home as well as in the community. She dedicated herself to her family and did everything she could to ensure their joy and success in life. Heide's compassionate energy and focused drive inspired and aided everyone in her life, her family most of all. She was not just a gardener of plants, but of people, and the growth she nurtured in others will be a lasting legacy of her wonderful spirit.
Heide is survived by her husband, Matthew; two grown sons, George and Peter; siblings Nahid, Ali, and Mohamad Pezeshkpour; and many nieces and nephews from around the world. Heide was lovingly cared for by her devoted family.
A memorial service will be held on Saturday April 28 at 3 pm.
In lieu of flowers, the family asks that those who want to honor Heide make a donation in her name to the IslandWood Garden Classroom.
The IslandWood Garden Classroom
In the early 2000's, Heide helped to create IslandWood's Garden Classroom, and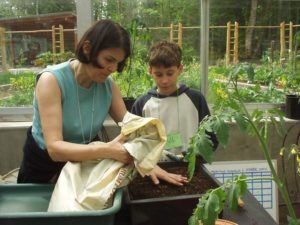 her impact is deep. Her role to inspire and establish the Teaching Garden is a legacy that has reached more than 50,000 children since IslandWood's founding.
As the team at IslandWood said, "We were so saddened to learn of Heide's passing. Heide's inspiration and support for the Garden Classroom has touched us all. Just recently, our chef and garden educator shared at a staff meeting how the garden is an essential part of the IslandWood experience to thousands of children each year, and the kitchen staff and garden team are partnering to make the garden an even more important part of our work for all students and guests who come to IslandWood."
Support the Garden Classroom
To make a donation to IslandWood's Garden Classroom, click here. Towards the bottom, you can leave special instructions that the gift is in memory of Heide. If you prefer, send your credit card number or check to: IslandWood, c/o Allyson Brown; 4450 Blakely Avenue NE, Bainbridge Island, WA 98110.